Blogs
Top Tips For A More Successful Fishing Trip
Top Tips For A More Successful Fishing Trip, Fishing is an age-old tradition that has been practiced around the world for centuries. Around the world, there are many people who are very interested in fishing but unfortunately unable to because they do not know where to begin or what equipment to buy. This article contains a number of tips for anyone looking to start fishing!
Fishing along the shoreline of a river or lake can yield amazing results. Fish like to catch bugs and insects in this area for their food, and by casting your lure where they congregate, you may yield a lot of bites. The number of weeds along the shore makes snagging your line more likely, so be careful. How To Can Become A Professional Bass Fisherman
When fishing, sit in a location for at least 30 minutes before giving up. In many cases, you need to give the scent of your bait time to travel and you need to give the fish in the water time to locate your line. If you don't wait at least 30 minutes for this to happen, you might miss out on some great catches.
Be prepared before you head out to fish. Plan to be in the water for a few hours and bring the necessary tools with you. This can include a lunch, some sunscreen, a few drinks, an extra fishing line, and hooks, and the tools you need to make simple repairs to your rod and reel. If you don't do this, you might find that you have to leave your favorite spot before you have a chance to catch even one fish.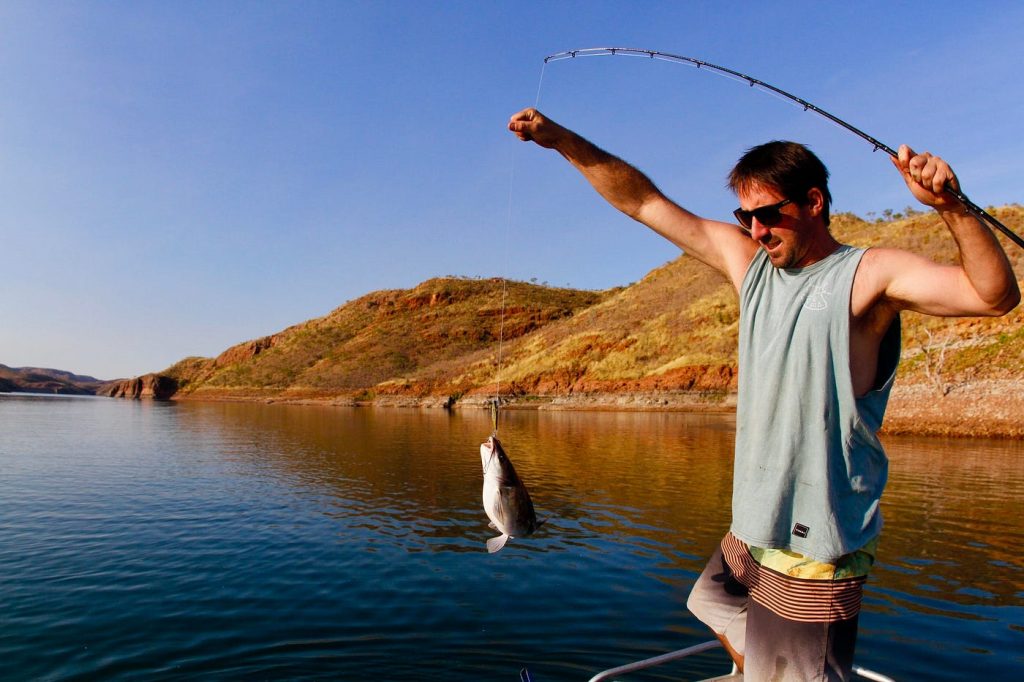 Keep an eye on the birds while you fish. Birds love to flock around schools of fish, so you will most likely find some great fish where you see the birds flocking. Birds love to eat fish and therefore are willing to make steep dives to get them. You may find your fishing success increases dramatically if you fish where the birds congregate.
When you first start fishing, it's important to know where to start fishing. You should start out in the shallows and then ease your way into deeper waters. Try starting in a small pond versus a large lake. You can start catching smaller fish to start with. This will help you work your way up to the bigger fish.
While many fishermen rise early in the morning, on a bright and sunny day, you can often get the best results mid-afternoon. If the sky is grey and overcast, but it isn't very windy, you'll be able to do plenty of fishing all day long. So if you'd like to sleep in before a fishing trip, go right ahead! Learn How To Use The Fishing Tricks The Pros Use
Consider the color of the water, as well as the light quality, when choosing your bass bait. Believe it or not, in murky waters or on overcast days many fish respond better to more natural-looking dark lures than to their flashy alternatives. On the other hand, clear waters and bright days are perfect for red, white, and yellow lures.
If you are going to be using live bait to go fishing, be sure your bait is not kept in the sun for too long. Most fish prefer bait that is cooler, rather than warmer. Have the bait kept in an insulated container until you are ready to use it?
If you are taking a boat on your fishing trip, make use of a fish finder for locating the best fishing spot. A fish finder uses sonar to locate fish. Be aware, some fishermen do not like fish finders. These fishermen are purists who believe that it is unfair to use technological advantages when fishing. Deep Sea Fishing For The First Time
To make sure your line doesn't give you any problems, test it regularly. Run the very last 18 inches of your line back and forth a few times while feeling it between your fingers. Look for any kinks, frays, or knots. If you find some, cut your line above the problem spot.
When planning on where to go fishing, be sure that you pick an area that contains a lot of fish. If not, you could waste hours trying to catch a fish to no avail. If you are unsure if there are many fish in your area, ask an expert.
Check the hooks on your lures as well as any hooks already on your line to ensure that they are sharp enough to bring a big fish in. If they will still scratch your nail then they are good to go, but if they are too blunt to do even that, then it is time to change them up.
Use an empty sanitary wipes container to keep your bait fresh and secure. Put water in a zipper bag and place it inside the empty plastic box. Then, put the box in the freezer. When you are ready to go fishing, add your bait to the box. The ice bag will keep it fresh, and the small opening on top of the box provides you easy access to the bait.
Move around every hour or so if you are having trouble remaining patient for a long time when fishing. This will enable you to have a fresh mind and you will also be able to enjoy the scenery, as well. Maybe you will find the perfect fishing hot spot. Fishing Tips That You Can Try Out Today
There does not exist any perfect bait that can attract all fish, all the time. To use different types of bait to your best advantage, understand how and when it makes sense to use worms, jigs, or grubs. Jigs can be great in murky waters where their activity will attract attention. Yet, plastic worms are much better used in clearer water, this is because they are easy to see so the fish will just come and get them.
As the beginning of this article has discussed, it's clear that fishing is a popular sport that many people are interested in trying. However, a lot of people that are interested in fishing never get a chance to do it because they aren't aware of what to do. Apply this article's advice and you'll be on your way to fishing in no time!